By Joshua Knopp/special assignments editor
Part one in a five-part series on winners of the Chancellor's Award for Exemplary Teaching, an annual recognition of professors who impress and inspire their students.
John Hiser has a really nice office  these days.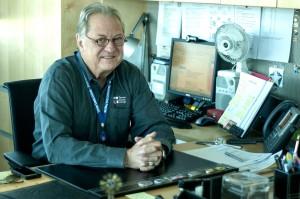 As coordinator of TCC's respiratory care program, Hiser moved from a much smaller office on NE Campus to the brand new TREC when it opened last year along with nursing and the other allied health programs.
"The campus is great," he said. "Brand new. Very, very nice, lots of new equipment, lots of room."
The upgrade was a long time coming for Hiser, who has held his position with TCC since 1985. On NE, he had a respiratory care room and an office so small that every time he got a new book, he had to throw an old one away. On TREC, he has a respiratory care floor and a corner room with a window.
Walking into that office, one can't help but notice the litany of awards that line it, including the 2012 Chancellor's Award for Exemplary Teaching.
The award blends in with Hiser's military awards and honors from a career in respiratory therapy that is still active. Hiser is a lifetime member and former president of both the Texas Society for Respiratory Care and the American Association for Respiratory Care and is an honorary member of the European Respiratory Care Association and the Japanese Respiratory Care Network.
The amount of progress Hiser is responsible for in respiratory care as a profession is humbling, especially when people realize he was also teaching the whole time. In Texas, he was president of the TRSC when it successfully lobbied for licensure in 1985 — the same year he got the job as respiratory care coordinator at TCC.
"Before licensure, someone could work without having gone to school and taking a competency exam, so licensure protects the patient," he said. "You had a lot of on-the-job trained people who may or may not have had good training."
Hiser signed his own license, and his signature is on the first 11,000 respiratory care licenses issued in Texas. He has held numerous positions in the TSRC and later the AARC, including president of that as well.
"Currently, I'm their international committee chair, and that takes me all over the world," he said.
Hiser has made 24 international trips since 2004 as part of his position in which he coordinates exchange programs and helps set up respiratory care in other countries.
Though he's made a career out of it, Hiser didn't always want to be a respiratory care therapist.
"I went to TCC straight out of high school when it opened in 1967," he recalled. "I was going to major in accounting, but I ran out of money. I joined the military because I knew if I didn't join, they'd draft me."
Hiser spent six years as a Navy corpsman, serving two years in stateside hospitals, two years on a destroyer escort off the coast of Vietnam and two years inactive.
"We picked up downed pilots and bombed North Vietnam," he said. "There was myself and one other corpsman, and we were responsible for the health and well-being of 250 men."
Hiser was farther away from Vietnam's most commonly known battlefields, but he was still in a war zone.
"We weren't on land, so we weren't in as much danger as the land
troops, but they still shot at us," he said. "Any time you're on a
ship, you're in a danger zone."
It was as a corpsman that Hiser was first trained as a respiratory therapist. When he returned to Fort Worth, he became a member of the second graduating class in TCC's respiratory care program — the same program he now heads.
Hiser thinks of himself as both a teacher and a medical professional.
"I enjoy teaching. I like it when they [students] understand a difficult concept,
when they get it," he said. "I'm a respiratory therapist. I still get
to the hospital and take care of patients. I get the best of both
worlds."
According to Sam Giordano, executive director and CEO of the AARC, even if Hiser didn't do work for respiratory care nationally, he would still serve the profession by sending out talented graduates.
"Mr. Hiser is first and foremost a teacher," Giordano said in an email recommending Hiser for the Chancellor's Award. "I have observed all too few health care professionals who provide a commitment necessary to continue creation of qualified respiratory therapists year-in and year-out."
Respiratory care student Lashanna West confirmed Hiser's excellence as a teacher, citing his constant willingness to be there to answer questions for students.
"He's a very friendly guy, very, very intelligent," she said. "We call him Mr. Respiratory."
One more hat that Hiser wears, according to TR Campus president Tahita Fulkerson, is that of a leader.
Fulkerson remembers the meeting she held with Hiser and the other allied health directors that determined their movement to TREC. In her letter recommending him for the award, Fulkerson said it was Hiser's influence that allowed his companions to go to the new campus.
"'I'll come if I can have a corner room with a window,'" Fulkerson
recalls him saying. "His remark brought laughter and applause and I
honestly believe a willingness of others in the room to collaborate
on the move."
Sitting in his new office, a corner room with a window, Hiser said 39 years after graduating, he still has more he can give.
"I'm not ready to retire," he said. "I'm going to keep doing it as long as I enjoy it. Moving here and getting a complete floor, getting a classroom and a lab, sitting here on the top floor looking out the window at the river — that's hard to leave."