By Kenney Kost/editor-in-chief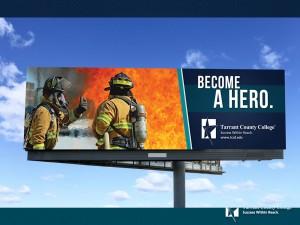 As part of TCC's 2014 advertising plan, the district will highlight the various technical programs and certifications offered through billboards, print media, radio and television.
Public relations and marketing director Suzanne Cottraux said TCC is well-known for its academic programs and only minimum advertising is needed in that area.
"What's lesser known for us is our technical programs," she said. "A lot of our programs are very advanced and can lead to good-paying jobs in a short amount of time."
The new plan is directly targeted at those who may not think college is for them, Cottraux said.
"We really have a great opportunity to showcase these technical programs to students who want to get in, get certified, get out and get jobs to support their families," she said.
Cottraux said she doesn't want it to come across that TCC is only a technical school, and striking a good balance was a challenge.
"I think we accomplished that balance with our billboard designs supplemented with what we are doing with radio and TV," she said.
The advertising team wanted to focus on one specific program from each campus that the surrounding communities may not know is offered, said web design coordinator Brandon Tucker.
Tucker, Cottraux and marketing communications manager Sara Rogers designed seven billboards. Five highlight a program from a specific campus including NE Campus' radio and television broadcasting, SE Campus' culinary arts, TRE Campus' nursing, South Campus' welding and NW Campus' fire training. The other two include a general TCC advertisement and one highlighting TCC's online opportunities, Tucker said.
"I think they look nice," said NE student Sharon Nance. "I think they definitely reach out to more people who think they don't have a future."
The billboards are being strategically placed near all five campuses, Cottraux said. Six will be vinyl, and three will be digital and rotate all seven designs.
"They are good images to show that you can go to school," said NW student Anthony Emerick. "But with billboards, some of them may have too much going on for a driver to realize what is on them before they pass it."
In addition to the billboard campaign, Cottraux said TCC is partnering with several movie theaters across the county to run 30-second ads on the big screen as well as plasma screens throughout the theaters.
"It will be a five-week run," she said. "It will run from late February to early April. We hope to capture those students on spring break who aren't really sure what they want to do."
In online advertising, Cottraux said TCC is using interactive tactics such as behavioral intent targeting, which serves ads to people who have searched using TCC keywords but have not actually visited the website.
"Basically, we would have a list of keywords that somehow pertain to us, and if someone searches using those words, we say, 'Hey, we know you were looking for something similar to us, so here we are,'" she said.
For radio and TV broadcasting, she said TCC would run spots on public radio for 13 weeks and a four-week flight of spots with Time Warner Cable on networks such as CNN, Fox Sports Southwest, Travel Channel, AMC, CNBC and MSNBC.
"The cable television deal is a targeted buy specific to the DFW area," she said. "Through this whole media plan, we estimate 98.5 million impressions by the month of August, so that is a lot of eyes on TCC."
Rogers said she was excited to see so many people, including board and CELT members, embracing the plan.
"It's rewarding to see so many people excited about it because there is a ton of planning and strategy that went into this plan," she said. "It was a total group effort, and we all played off each other's strengths."
Board of trustees president Louise Appleman cheered the plan.
"I can't believe I'm applauding billboards, but they are beautiful and brilliant," she said.