By Dylan Bradley/ne news editor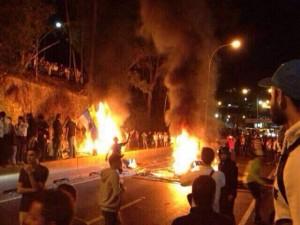 When South student Maria Artiles logs into Facebook, she is bombarded by images of her homeland's upheaval.
Three years ago, at the age of 18, she emigrated from Venezuela to the U.S. with her family.
On Feb. 12, Venezuela's Youth Day, student protesters filled the streets of major cities across the country to protest rampant crime, mass media suppression, food shortages and high inflation. It marked the beginning of the worst unrest the country has seen in the past decade.
Members of Artiles' family have experience with the issues fueling the unrest today. Once her mother and brother were in a clinic where he was being treated for alopecia.
"This man came in and robbed him," she said. "He pointed a gun to my brother's head. He [the robber] was identifying himself as a supporter of the government."
That was not the first time one of her immediate family members faced violence.
"My grandmother's brother, so I call him uncle, was beaten up and robbed while he was taking the bus," she said. "Someone found him the next day unconscious on the side of the road."
Venezuela has the fifth highest murder rate in the world, according to BBC News. Artiles said that number will never go down until murders and crimes are actually investigated. In the case of her brother and uncle, nothing was done.
A shortage of basic food supplies is another layer of the unrest.
"I wanna go to the grocery store, and I want to get 20 bags of bread," she said. "Well, you can only have two."
She said a storage facility full of rotten food was found around 2010. Artiles thinks that the government has the commodities but is just regulating them to keep the people in poverty.
"Poverty is the policy in my country," she said.
A BBC News article cites that the president "continues to have strong backing among his core constituency, especially the poorer sections of Venezuelan society."
Artiles contributed this to the rhetoric of former Venezuelan president Hugo Chavez and the current president Nicolas Maduro, but she doesn't think their charisma will keep much favor for long.
Another problem in Venezuela is high inflation.
According to a BBC news article, "official figures suggest yearly inflation in December 2013 stood at 56.2 percent."
Artiles witnessed the inflation in her country rise dramatically.
"When I was 7, you could use $1 to buy 700 bolivar," she said. "Now it's 71,000."
While Artiles said that the currency changed around 2005, the current exchange rate says one Venezuelan bolivar equals 14 cents in U.S. currency.
Then there's the problem with the government suppressing mass media, preventing free speech. Two media outlets have been expelled or shut down.
In a New York Times article, CNN International and CNN Español reported that their press credentials were revoked and journalists were asked when they planned to leave.
"CNN, its programming, is 24/7 war programming," Maduro was quoted. "They want to show the world that in Venezuela there is a civil war. If they do not rectify things, get out of Venezuela, CNN, get out!"
Colombian TV news channel NTN 24 was also removed from the grid of Venezuelan cable operators, according to a BBC article. Maduro accused the station of showing the demonstrations and inciting violence.
Twitter reported that images were being blocked on some days and an entire city was without Internet connection.
Artiles still has family and friends in Venezuela and communicates with them when their Internet isn't disconnected by the government.
"The funny thing is, they ask me, 'What do you know? We don't know anything here,'" she said.
She said they don't know what is happening in the other cities with the other protests.
Thirteen deaths have been confirmed through Venezuelan authorities so far, but the number has fluctuated almost every day.
Opposing forces have different numbers than the government on everything from the number of deaths to the number of prisoners taken during the protests.
The Venezuelan government expelled three U.S. diplomats after the U.S. sided with opposition leader Leopoldo Lopez, who turned himself in to authorities and still awaits trial.
Artiles said that in the last presidential election, Lopez was the second choice as Maduro's opposition.
Since his detainment, the protests have turned more violent with opposition forces blockading streets and damaging government buildings.
Venezuelans living in DFW recently held rallies showing their support for their homeland, and Artiles said everyone should spread awareness.
"That's going to create international pressure," she said. "And it's going to expose them."