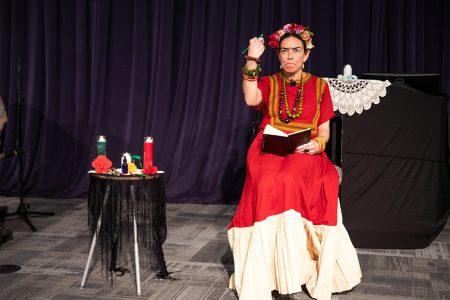 IRENE DOMINGUEZ
campus editor
irene.dominguez370@my.tccd.edu
The 13th annual Abrazando al Exito event was hosted by TR Campus's student activities on Oct. 12. The event was part of TCC's celebration of Hispanic Heritage month. The 2022 year theme for the event was Unidos: Inclusivity for a Stronger Nation. 
The event opened with a buffet of food for guests including taquitos, beans, rice and Jarritos. Students mingled with interim chancellor Dr. Elva LeBlanc, and  some campus presidents who were present.. 
Carlin Johnston, the coordinator of student activities at South, opened the night with a reminder of what the event was all about. 
"Abrazando al Exito means embracing success, something we strive to do here at TCC, especially during National Hispanic Heritage month," she said.
Students introduced the new TR club, Dreamers Alliance, which began summer of 2022. 
"We want to accomplish greatness, get out there, get the community involved," Danielle Mares of TR Campus said. 
Dreamers Alliance, created by Emely Macias, Fatima Perez,  Anabel Medina and Dani Mares, TR students, is a club with a mission to celebrate cultural diversity and give back to the community. 
The first performance of the night was virtuoso pianist Eduardo Rojas, a native of Colombia and a classical music performer. He began playing piano at age four, and has since played with multiple orchestras in Colombia and the U.S..
Rojas founded Rojas School of Music in 2014, and said he is passionate about teaching music. 
"We are united by music, we cannot fight with music in our heart, " Rojas said.
He teaches 500 students from all cultures and backgrounds, but everyone's the same when they are playing music, he said.
Rojas played three complete pieces, Ernesto Lecuona's "Malaguena," Consuelo Velsaquez's "Besame Mucho" and Piazzolla's "Oblivion."  
The second performer of the night was Debra L. Sherman, an award winning actress and playwright who has done voice work and even worked as a clown in a children's hospital for 10 years. 
Sherman performed her one woman show, "Frida: Unmasked about the life of Frida Kahlo," which is about a Mexican painter known for her self-portraits. 
The play goes into the accident that left Kahlo crippled for the rest of her life,how difficult it was for her to recover and how it changed her.  
The performance also depicted Kahlo's first meeting with painter Diego Rivera, and how he inspired her to keep painting. Her marriage with Rivera was fraught with infidelity and complications which ultimately led to their divorce. 
Sherman's performance highlighted Kahlo's pain and how it was constant in her life. She dealt with alcoholism, miscarriages and her misgivings with the art world. 
After her performance Sherman answered questions from the audience. An audience member asked her how she thought Kahlo would have felt about the appropriation of her image into pop culture.
"The one thing I can say that would make her insane is this prettifying. These paintings and murals make her look so lovely and soft. That's not who she was," Sherman said.
She said it shows how far removed we are from her physical form. 
Sherman also said that cultural appropriation creates fear in the Latin community that the culture will be diluted.
"The dilution takes place from the disbursement of the conversation," Sherman said. "So you lose a little bit of that intense energy."
Sherman said what is important for the Hispanic community to remember is that no one can take away the meaning of Hispanic from their community. 
"You want to own who you are and where you're from." Sherman said.