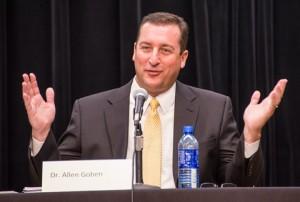 By Dylan Bradley/editor-in-chief
Allen Goben will assume the role of NE Campus president Sept. 1.
Chancellor Erma Johnson Hadley announced the appointment July 15. Goben, who comes to TCC from Western Governors University, replaces Larry Darlage, who is retiring Aug. 31.
During an open forum July 14, Goben discussed his belief that student success is an extension of access.
"Students have passions and dreams that they come to us to help them realize," he said. "We have to really understand the student's intent and have an atmosphere of high expectations and high support."
The forum served as a final interview for Goben and the other two finalists for the position: Rebecca Riley and Feleccia Moore-Davis, both from the Lone Star Community College district in Houston.
Goben most recently served as a senior executive for community college partnerships with Western Governors University and the inaugural chancellor of WGU Missouri. He has also served as president of Hazard Community and Technical College in Kentucky and Heartland Community College in Illinois.
He said his style of leadership has been described as a servant leader.
"I have a really engaged, facilitative style," Goben said. "I believe in a lot of smiling faces and happiness. If I'm walking down a hallway and hear laughter, I think that's a really good thing."
Goben shared his personal definition of shared governance, which focuses on collaboration.
"When there are opportunities for us to collaboratively look at things and analyze the challenges and then create solutions, we do that."
He practiced this theory at HCTC to help streamline its committee process that had 55 standing committees with some people facing three committee meetings at the same time.
"I put a team together, and we took a really hard look at the committee structure," Goben said.
After analysis, 22-23 committees were left with everything else moved into specific task teams.
"It was probably one of my most resounding success stories that I've had with shared governance," he said.
One specific area that Goben plans to explore is fundraising.
"The wealth in this district around the campus is staggering," he said. "The hard part is not having them, it's just figuring out which ones to pursue."
Goben believes in team-based professional development that includes faculty, staff and administrators working together.
"Check your title at the door," he said. "Let's go to a conference together. Let's really get to know each other and learn together. If we can be learners together, we can do so much."
Darlage's retirement party is 2-6 p.m. Aug. 29 in NSTU 1605. The program begins at 2:30.
Goben moves into the president's office after Labor Day.