XAVIER BOATNER
campus editor
xavier.boatner@my.tccd.edu
Two TCC campuses have collaborated to breathe life into a tragic reunion between three sisters. 
Students from across the NE and NW drama departments have joined forces to take part in "Crimes of the Heart," an adaptation of the 1978 Beth Henley original and a stage play that tackles the loneliness and trauma faced by a group of three southern sisters. The production will run from Oct. 4-7 in the NFAB building. 
"The play is about three sisters who have a traumatic past coming together in the small town of Hazelhurst, MS in 1974, after the youngest attempts to murder her husband by shooting him," NE student Alexis Brown said. "It has that same feel as 'Steel Magnolias'." 
Brown and the rest of the cast talked about their roles in the play and what their characters offered the story. 
"I play the role of Lenora 'Lenny' Magrath," she said. "She is the oldest sister. She is the one who takes care of everyone but herself, and she thrives off of having her sisters around her and longs for companionship but lacks the confidence to reach out for it."  
NE student Darolynn Nieves shared details about her character as well. 
"I play Chick, the Magrath sisters' noisy cousin who really needs to learn to mind her own business," Nieves said. 
TR students Antonio Mazzone plays a precocious lawyer named Barnette Lloyd. 
"He is seen to be an intelligent person, who is very passionate and fanatical about this career and this case specifically," Mazzone said. "Lloyd has a lot of energy and is very ambitious." 
TR student Miranda Hilder followed suit and said her character tended to provide a spark of comedic relief in tense situations. 
"I play Meg Magrath, the middle sister of the three Magrath sisters," Hildner said. "She is 27 and lives in Hollywood, California in hopes to pursue a singing career. She comes home to see Babe, her younger sister, because she shot her husband. Meg is sarcastic, fiery, witty and doesn't take life too seriously. She can always find a way to squeeze in a joke to anything serious." 
Each of the cast members found intrigue and depth in the story in their own ways, but all of them agreed the tone and writing style was a big draw for them.  
"I found the play to be very well written, and how these characters feel is so real and different," Mazzone said. "This play is character-driven rather than a plot-driven play, and so we get to uncover more of this story through these characters. That is what makes these characters so vibrant. This story is told only through these characters and their experiences, and the history of these characters are very rich."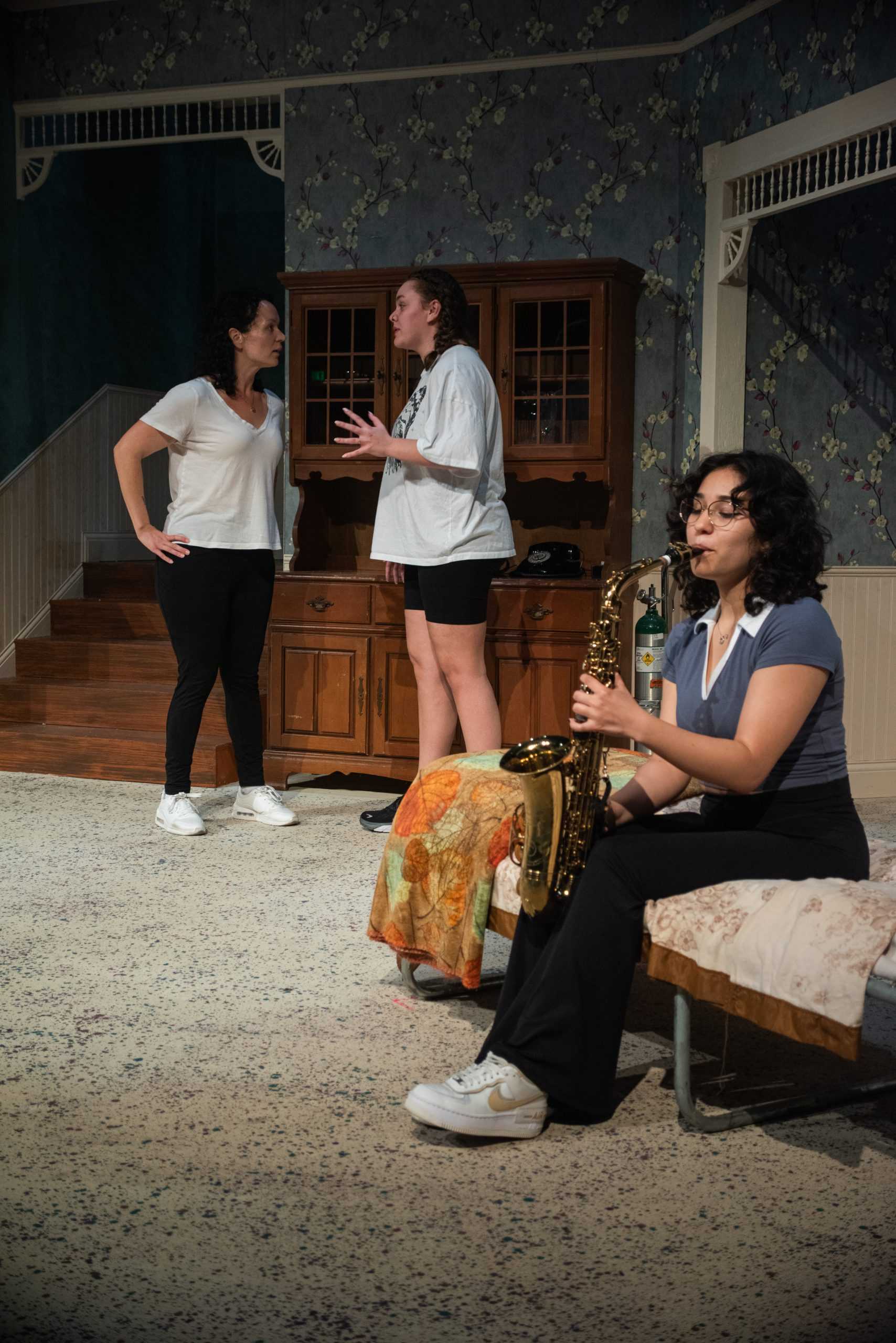 Mazzone said every character in the story had a defining moment that would help characterize their personas. 
For Nieves, the genre and acting style behind the characters was what drew her in. 
"It's a dramedy set in Mississippi," she said. "Anything to use an accent on stage." 
The most interesting aspect of the play to Brown was the sense of humor injected into the story. 
"Dark humor is tricky because if it is not done right, it can just come off as tactless or ridiculous, and I had never done anything like this before," she said.  
Hildner felt the theme was more about the familial connection between the three sisters and said the theme has opened her eyes to the way she views that type of connection. 
"The theme has shown me what true family means," she said. "That means resentment for certain things aside, we all have each other's backs in life – no matter the situation." 
Mazzone's takeaway from the theme was quite similar in that the experience helped him to truly value those in his personal life. 
"I learned more about myself and who I am and when I should stop holding on to such grudges. Because in life there can be other important things than holding on to the past," he said.  
Brown believed the theme of the play is all about the strength in relationships and found that the play allowed her to do so self-reflection on the importance of keeping those relationships nice and healthy. 
"As the middle of three girls, I resonate with it. When my sisters and I are together – life feels better," she said. "I don't think it has opened my eyes to anything per se, but confirmed things I may have forgotten about. Like the need to keep bonds tight, especially with those who love you – warts and all." 
The sisterly story that is "Crimes of the Heart" could leave many with unique interpretations. 
 The idea of the play is to provide viewers with an entertaining and self-reflective experience that gives them a glimpse into the varied works of the drama departments.  
The reaction of the audience was one Mazzone thought was important, and he hoped in the end, after seeing the show, that viewers would also be able to reflect more on who they are as people. 
 "I hope the audience will love these characters and their stories, and I hope they have some laughs because it is an entertaining show," he said. "But I also hope that they learn a bit about themselves. I hope that we, as the actors, allow for the audience to understand and feel for these characters and bring to life the amazing writing from Beth Henley."