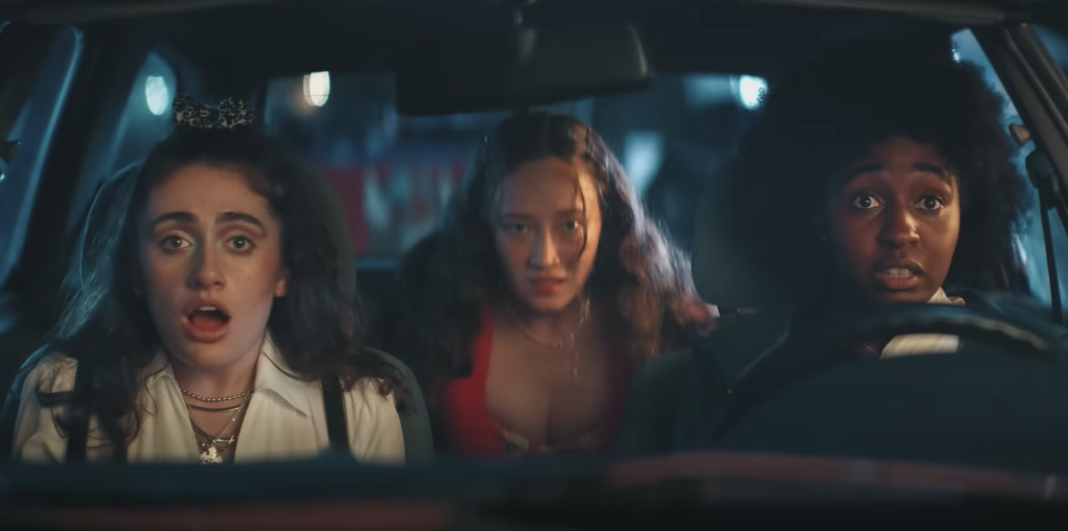 OLLA MOKHTAR
campus editor
olla.mokhtar@my.tccd.edu
They're not hated because they're gay. They're hated because they're "gay, ugly and untalented." 
"Bottoms" follows high school students Josie (Ayo Edebiri), and PJ (Rachel Sennot) who are labeled as the losers because they don't fit societal beauty standards. In a quest to find love, they also learn the importance of friendship with each other. 
They both have crushes on Isabel and Britanny respectively. Unfortunately for Josie though, Isabel is in a relationship with Jeff (Nicholas Galitzine). 
One night at the school carnival, PJ decided that night was the night they both would start talking and dating their crushes. While Josie is very skeptical of the plan and isn't confident, she goes along with it and accompanies PJ to the fair. 
The plan fails miserably, and they decide to head home.  
But when Isabel catches Jeff staring at one of the teachers and touching her inappropriately, they start fighting. She storms off with Jeff chasing after her and enters Josie's car. Josie inches forward with her car and bumps Jeffs knee, but because he is the idolized football star that everyone pampers, he acts as if she seriously injures him. 
PJ and Josie both get in trouble at school the next day with their peers and the principal. In an effort to get out of trouble, PJ says they were practicing for their new "self-defense" club.  
This time their plan works and suddenly they start lying about how they learned to fight in juvenile detention. Their crushes find their story inspiring. Word circles around and before they know it, they're in over their heads teaching a bunch of girls, including Isabel and Brittany- "self-defense." 
Jeff's partner in crime, Tim, catches on to their lie and works to expose them,  while the new "self-defense" club slowly becomes a safe space to talk about stalking, harass bnment, bullying and other personal issues. They also learn to work together to dismantle a threat toward the football team. 
The movie is a comedy. However, it alludes to topics such as female friendships, female and male solidarity, the porn industry, being bicurious, cheating in romantic relationships and much more, which is beyond impressive for a 90-minute movie. 
The two topics that caught my attention were the focus on female friendships and the subtle mention of the porn industry. 
The idea of girls talking about struggles with their home life, stalking and being assaulted was incorporated into the stereotypical characters of cheerleader, skateboard girl and nerd, allowing me as the viewer to interpret them as multifaceted. I loved that their problems were put at the forefront of the movie, and their romantic conquests were labeled as secondary. 
Even though their lie was exposed, and the group became angry, they still found a way to put pettiness aside and work together. It emphasized that there is more to life than having a romantic relationship. 
It is over dramatic but thoughtful and insanely unrealistic, but the film sheds light on real-world topics that can't be explained without the word genius. It's essentially a front for what some people called a romantic comedy turned queer. 
Galitzine's insane range of acting abilities made the film even better. I didn't think he would perform well since he's known for more serious characters like Prince Henry from "Red, White & Royal Blue" and Luke from "Purple Hearts." But he acted like being a jock was his life's mission, and I appreciated his obvious commitment to the role. 
The film reminded me of the novel "1984" by George Orwell with its delivery and cliff hangers. Like Orwell, director Emma Seligman told a story that allowed viewers to think about later. It feels like this era of cinema is leaning towards Orwell's way of storytelling.  
"Barbie" introduced themes like the importance of female friendship as well, but what make this film unique is its ability to engage the audience in the same topic but with a comedic spin. 
Of the movies I've seen, none concluded with a light-hearted feel to it. So, if you're looking for a modern and queer spin on High School Musical, you should definitely check this out.