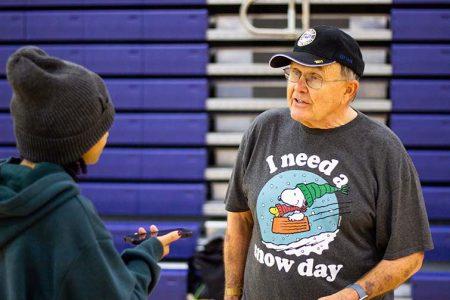 KEYLA HOLMES
campus editor
keyla.holmes@my.tccd.edu
South Campus creates the opportunity for students and staff to take part in, according to many, one of the fastest growing sports – pickleball. 
With the many clubs and activities offered at South, pickleball is one that anyone, regardless of age, can get involved with.
"Anyone can play it from a five year old all the way up to a ninety year old," South HPE instructor Staci Smith said.
For those not familiar with the sport, Smith said it's similar to tennis and ping pong.
"It's as if tennis and ping pong had a baby," she said. "A lot of the rules are a lot like tennis, and then there's a bit of ping pong because you use a paddle."
While playing sports may not be for everyone, athleticism may not be an important factor for pickleball.
  "It's fun and I can do it," South math adjunct Cathy Haley said. "I'm not athletic at all – never have been," she said.
Faculty and staff have the chance to get together once a week and work on their skills.
"We started this past fall for faculty and staff health and wellness, offering pickleball once a week," Smith said."We've been teaching pickleball in our classes for several years, so since we've come back from the pandemic we've really been pushing pickleball out there."
South's senior ed program gives their students the opportunity to get involved.
"These last couple of years they've been having a senior ed program, so that they offer it to the older people, and that makes it kind of fun – so they've been coming out and playing," South senior student David Gustafson said. 
While seniors are joining in on the fast growing sport, getting the rest of the student population involved hasn't exactly been easy.
"I offered this class last fall for students to take and not enough students registered for it," Smith said. "I offered it again this spring – not enough students registered. , she said. "We're hoping by next fall, more students will sign up for it and a class will really make."
Haley not only wants to get the ball rolling due to how fun she thinks the sport is, but because of its accessibility. 
"I've been trying to help Staci get it started here because this is maybe the only sport that you could play life long that's affordable and accessible," she said."Things like Golf people could play, but it's very expensive."
Not only is pickleball a growing sport across the country but it's getting attention and participation right here in Tarrant County. 
"You go to any tennis courts in Fort Worth, you go to any rec center – YMCA, they're playing pickleball," Smith said.
While trying something new can be intimidating, Gustafson said what he'd say to anyone considering the sport.
"You've got to try," he said. "Yes, the first experience is going to be a little rough, and you may not hit what you think you can do, but everybody that's started had to start playing at that level where they weren't very good. Nothing ventured, nothing gained," Gustafson said.
For those under the impression that pickleball is only for senior citizens, Gustafson has one last remark.
"Some call it a geezer game, and I've told them 'get out here, and I'll show you what geezers can do'."