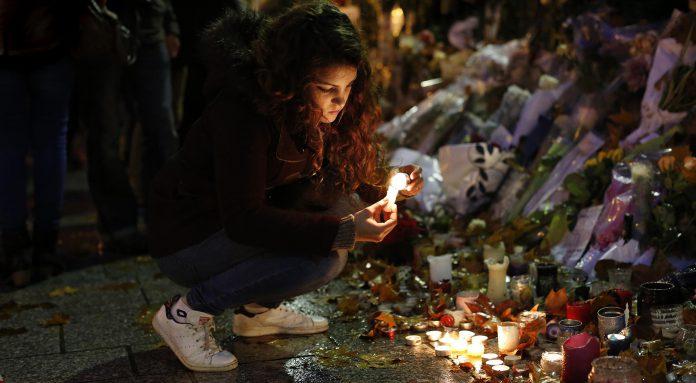 By Hope Sandusky/ editor-in-chief
In the face of tragedy, it is hard to know how one would react if a close friend or family member was affected.
That's exactly what Maddalena De Nicola faced after her friend from elementary school was shot during the Paris attacks that left at least 130 people dead and over 300 injured Nov. 13.
"You're shocked about the news, but you don't expect to see the name of someone you knew," she said.
The NE German and ESOL instructor remembers coming home to her husband and discussing the tragedy of the events occurring overseas.
It wasn't until the next day that she heard her friend had been shot in the shoulder while at the Bataclan.
"She [her friend] was with a man who had to pretend to be dead and crawl over bodies in order to escape," she said. "It's hard because it's such a horrible — even though they survived, they're shocked for life."
Born in Italy, De Nicola likens the proximity of the events to her home as what it would be like between two close cities.
"For most Europeans, going to Paris is like going to Houston from here," she said. "It's not uncommon for people to go just for a weekend. It's about a one-hour flight for like $100."
De Nicola says location plays a big part in witnessing people's reaction to the events.
"I definitely saw a lot more posts from European friends than from my American friends, which doesn't surprise me because it's [Paris] considered far from here," she said.
De Nicola said that having the attacks so close plays up people's fears, especially in Europe.
"I think people are scared. You realize how bad it is when you are near all of it," she said. "The alarm scale over there is way high now because they know it's not over."
Still, De Nicola says the events won't deter people to keep on living.
"How do you know what will happen? You can't speculate on those types of events," she said. "How do you know when the next college shooting will be? The reality is it can happen again. You're going to travel still."
Former TCC student Joshua Key voiced the same opinion as he gets ready to go to Paris with an internship through the U.S. Embassy.
"I'm not worried at all," he said. "There was a shooting in New Orleans [recently]. There was the shooting in Oregon. It's like saying, 'Are you scared of going to college after a shooting?' It's not going to stop me from going. I don't think it's going to deter anything."
Key will be working up to six months through the Department of Commerce helping American companies operate in France.
While he expresses no concern over going, he does note some are concerned.
"I think my grandmother would be hesitant," he said. "People can get into a hysteria over it, especially seeing everything played out on TV so constantly."
Going to Paris with a study abroad scholarship, student Jamie Laubach said while her family might be worried, the chance to go to Paris is greater than the risk.
"My mom is a little worried," she said. "It worries me more to lose the opportunity. I'm really excited."
Key and Laubach both said they look forward to experiencing the Paris culture.
"I'm really just trying to get work experience and get assimilated into the culture," Key said.