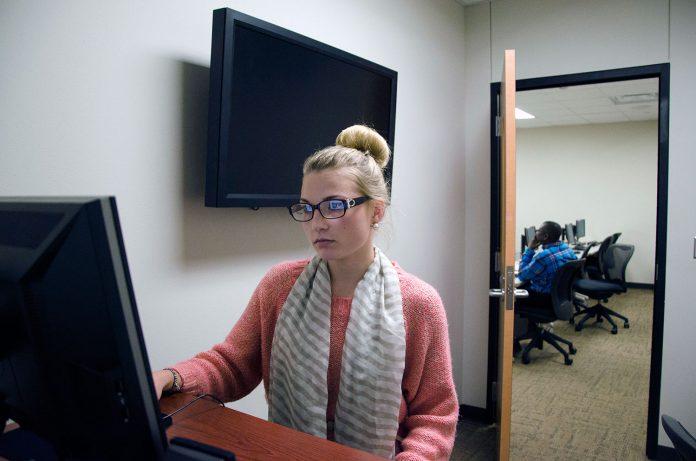 By Anderson Colemon/tr news editor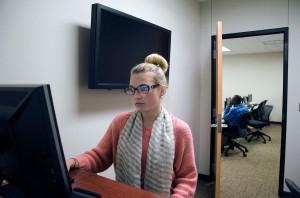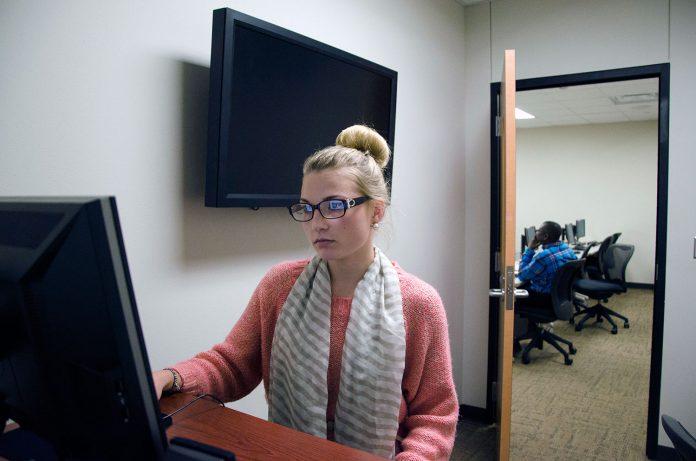 Students use the speech lab on all campuses to hone their communication skills.
Some students go to the speech lab to partake in a "wide range of activities," said TR speech lab instructor Cameron Hendley.
"We generally work with students on basic assignments, such as researching, outlining, writing, PowerPoint building and rehearsing," he said.
But he said he wanted the speech lab to be a learning space as well.
However, the speech lab not only looks toward ways students can be better informed, but also the lab employees listen to students who need "an extra set of eyes and ears to rehearse."
"Many students we work with are confident public speakers who express themselves well, so they may be coming in for help with putting together a logical argument for a persuasive speech," Hendley said. "Or, maybe they just need a quiet place to rehearse. The point is, we serve a pretty wide range of needs within the subject of communication arts."
Hendley said the benefits are great for those coming to the speech lab. He described the lab as a no-pressure environment where students can look around and know it's safe.
"Apart from this, the obvious advantage for students is that the speech lab is a place specifically focused on developing communication skills," Hendley said. "Whether you come for project help or for a workshop, our goal is to help you grow as a communicator, not just get a good grade — although we like that too." 
Hendley said more than 320 students came to the lab for help involving outlines for speech during the last final exam season.
TR student Patrice Herring worked to finish a group project before final exams week and received help from speech lab associate LaTesha Alexander located in TREF 6330A.
"The speech lab is very beneficial because when we search for information for our PowerPoint or presentations, LaTesha is there to help us out," Herring said.
Alexander said a speech class experience led her to her current job.
"It's one thing to hold a conversation with a friend, but when I was in speech class, the teacher said she didn't like the way I spoke it, and this made me want to dedicate my time in helping students communicate," Alexander said.
On NE Campus, Jessica Childress goes into the speech lab located in NBSS every day to work on speech and history homework.
"[The lab] is really convenient because I'm in here everyday for outlines and speeches," Childress said. "But the plus side is there is free printing."
Childress said she has seen an improvement in her public speaking since going to the speech lab and the way she practices in a secluded room.
"I was nervous at first," she said. "But I got over it."
The TR speech lab is currently working on a set of short workshops for the spring semester that will help train students in nonverbal communication, listening, overcoming fears and job interviews.
Speech lab locations and hours:
NE Campus NBSS 1102
Mon.-Fri. 7:30 a.m.-5 p.m.
NW Campus* WTLO 3401
Mon.-Thur. 7 a.m.-8:30 p.m.
Fri. 7 a.m.-5 p.m.
Sat. 8:30 a.m.-3 p.m.
South Campus* SCLC 0123
Mon.-Thur. 8 a.m.-9 p.m.
Fri. 8 a.m.-4:30 p.m.
SE Campus ESCT 1211
Mon., Wed. & Fri. 11:45 a.m.-12:45 p.m.
Tues. & Thur. 1-2:20 p.m.
TR Campus TREF 6330A
Mon. & Wed. 10 a.m.-7 p.m.
Tue. & Thur. 8:30 a.m.-7 p.m.
Fri. 8:30 a.m.-2 p.m.
Sat. 8 a.m.-1:30 p.m.
*On these campuses, speech labs are located in the writing center.