By Jamil Oakford/reporter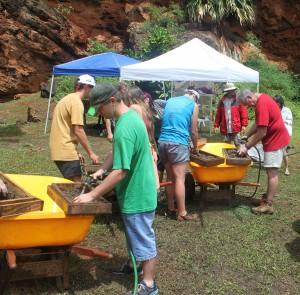 Students can pack Hawaiian shirts and their best hiking boots if they want to experience a summer trip with a bonus: class credit.
The NE biology and geology programs are gearing up to head to the Hawaiian Islands this summer. While there, students will travel to different locations on the main island of Hawaii and the smaller island of Kauai, earning class credits along the way.
"It's the best classroom," NE geology professor Meena Balakrishnan said.
The field classes cover disciplines in both geology and biology.
"Biology and geology are perfect classes to teach together," she said.
Field activities in Hawaii include a three-day visit to Hawaiian Volcanoes National Park, the Alakai swamp trail and Waimea Canyon — a volcanic canyon. In fact, students can expect to see many volcanoes.
"We stand on the volcano, explaining why this fissure is here," Balakrishnan said. "You can see the lava flow and say what year it is from, and you can see new plant growth."
And there's no need to be a science major. Students get five courses to choose from, two from a set of biology courses and one geology course.
Pre-trip classes start March 23, which is also when the fee for the classes is due. Pre-trip classes go straight through to June 1, just a week before departure for the big island of Hawaii, where students will get firsthand experience of what they've learned in pre-trip classes.
"You can see the students who don't get it [in pre-trip classes], but as soon as you take them into the field, they get it," she said.
The complete cost of the trip ranges between $2,000 and $3,000. Deposits must be paid, but the advisers for the trip are willing to work with students on an individual basis to set up payment plans.
"All money isn't due at one time. We'll work with you to get it all paid," said Mike Huddleston, NE adjunct biology instructor.
The tuition covers everything for the trip, including transportation and van rental, except meals. But one can't simply put a price tag on the invaluable experience they'll receive from exploring Hawaii, Balakrishnan said.
"You cannot beat studying in the field, especially in science," she said.
The time and hands-on experience students will get working in the field is one of the biggest selling points for this trip, Huddleston said.
"Anything in the field with hands-on experience is beneficial," he said. "It's almost as if someone set up an experiment millions of years ago, and today we can see results."