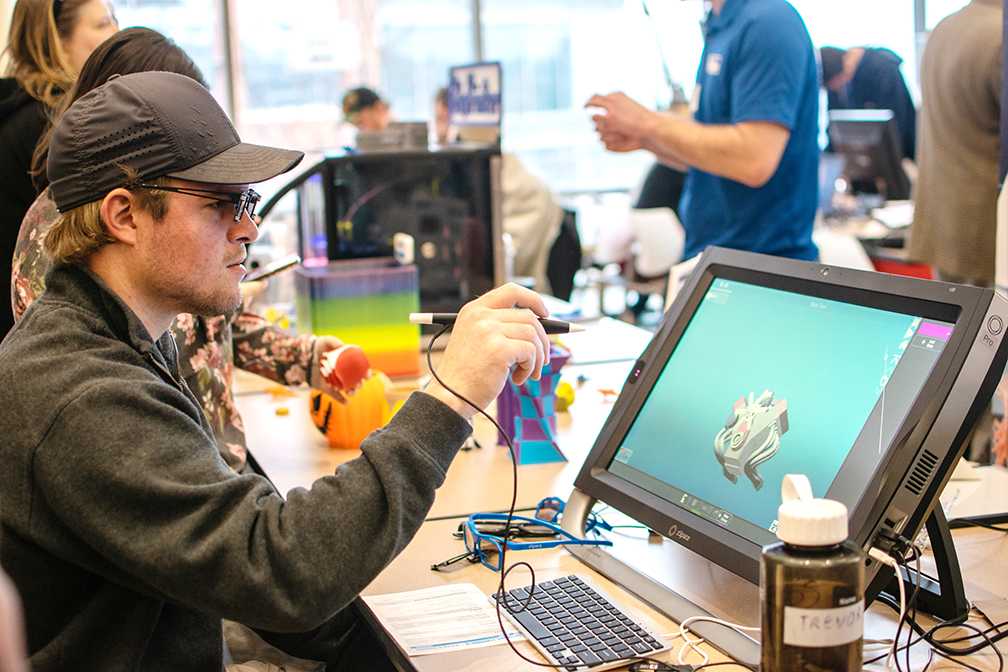 By Jade Myers/campus editor
Beer brewing, 3D printing, jewelry making, engineering and app building all came together at the FabNow conference.
The event took place Feb. 15 and 16 on TR Campus. Saturday included an expo where local companies and makers showed off their work, and at the Appathon, students competed to make apps.
"I'm excited to learn what people are actually making," TR student Stephanie Siller said. "I stopped by because when I see things like this, I want to see what's going on and get involved with the school activities."
People from the community attended as well, including local maker enthusiast Christopher Melvin who has an interest in makerspaces.
Most people can't afford to buy some of the larger maker equipment, and even if they could, they have no space for it at home. Makerspaces provide space and tools for those people either for free or for a membership fee. "One of the reasons that I am here is because I am interested in starting one here in Fort Worth," Melvin said. "And a lot of people are, but for whatever reason, it's not happening."
The expo part of FabNow had several booths including one for the Fort Worth Thunderbirds who brought their remote-control planes, each large enough for two people to have to carry them.
"Fort Worth Thunderbirds is an RC club, and it's on Benbrook Lake and we teach free flying lessons," Thunderbird representative Mike Schroeder said.
Schroeder's son, Grant Schroeder, is a TCC graduate and was there to talk about his making experience.
"While I was here, I 3D printed a P-38 lightning RC plane and flew it," he said. "And then, that helped me get a job at the UTA FabLab."
The UTA FabLab is UTA's makerspace with a variety of equipment for different maker skills such as textiles, electronics, 3D printers and scanners as well as shop tools.
Mouser Electronics Inc. was one of the sponsors of the event and had a booth to show off their technology. The demo included a screen that could identify the age, gender and expression of whoever was standing in front of it using Intel's neural compute stick 2, said Joseph Downing, Mouser's technical marketing engineer.
The Perot Museum had representatives with a large shoebox-shaped robot on wheels that had a robotic arm on it playing with a ball.
"We have a station with three different computers," Perot Museum educator Logan Whited said. "The kids have to work together to be able to operate a robotic arm, move the actual robot around and control the camera to be able to work together to get a ball into a basket remotely."
They also had a 3D scanner that scans people to create a 3D hologram of them that was then displayed on their hologram machine in 3D, he said.
Another vendor there was Lindsey Leath, a local artist with a bachelor's in jewelry design and silversmithing who creates custom jewelry pieces.
"My mom was a traditional jeweler [and] my dad is a welder master mechanic," Leath said. "So, I've always been making things. It's kind of like a science project each time. You never know what's going to happen."
Cowtown Brewery was also there showing off how they make their beer with a jug of fermenting beer sitting right on their table.
"It's a lot of chemistry and a lot of biology involved in making beer," part-time cellarman James Edford said. "It's a very intricate process but very detail oriented as well."
At the end of the FabNow event, Cowtown Brewery hosted the after party at their location in downtown Fort Worth.
The Appathon was in full swing at the same time as the expo.
"I wanted to try something new 'cause I'm a mechanical engineer major," SE Student Taylor Kenda said. "So, I wanted to see if I could make an app."
Kenda designed an app that keeps track of eating habits and workouts because he used to be a track athlete.
The winners of the Appathon included SE student Naren Patel in third place, NW student Joshua Alvarado in second and NE student Sisi Kang in first.
The Appathon was ran by TR computer science professor Tyson McMillan.
"Students didn't have to have any programming experience at all," he said. "We give them a foundation that says, 'Here are the languages behind it, but let's connect you with industry professionals who are making this every day.'"
Co-founders of Astro Crow Brian Stabile and Shaun Wightman were judges in the Appathon.
"We're based out of Orlando, Florida, and over the last almost ten years, I think maybe over ten years, we made 18 apps on Android and iOS," Stabile said.
Students who participated appreciated the knowledge that the developers in attendance brought to the event.
"I really learned a lot of information from the game developers that they invited," TR student Dijonai Gibson said. "I figured I would get some kind of business opportunity or to learn something from coming here. And so, that's why I did come."